There are books and albums which try to make a full and all around detailed story of the Formula 1, the sport which will turn 70-year-old in 2020. But also 2019 had its own milestone of F1 celebrating the 1000th Grand Prix in the frame of the China event in April.
For this occasion, Veloce published an amazing book by Roger Smith about first 1000 races of F1 - and I am grateful to get a copy of the limited edition of 1000 copies signed by the author.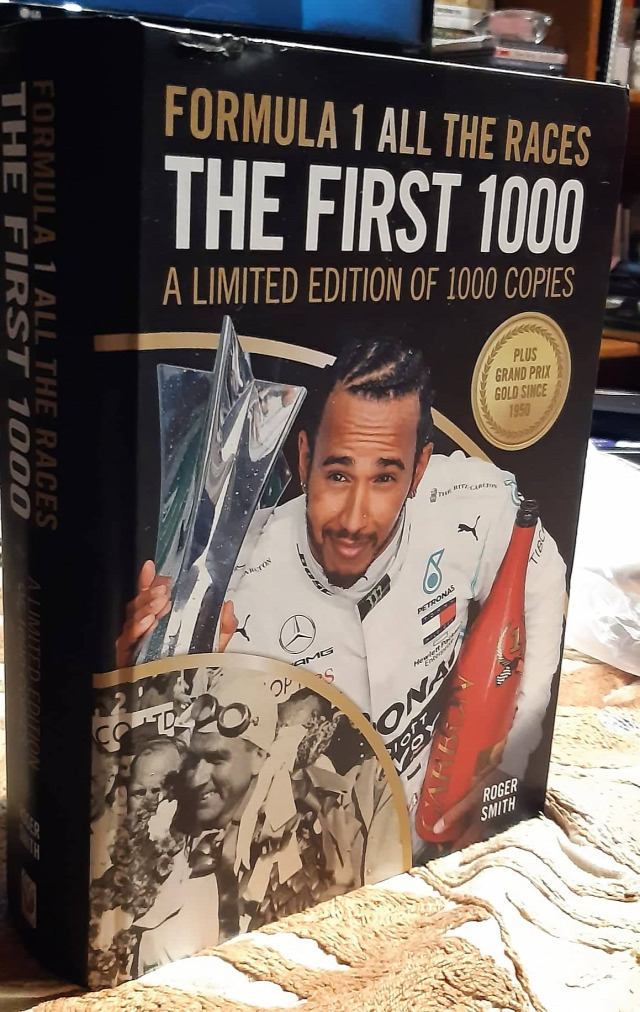 Smith's work is extraordinary in every sense - though, what was born is not a pocket manual guide being at least 5 kg. Not a wonder after all it is 720 pages printed on thick paper means it is like a Bible of F1's past.
Roger Smith, of course, goes through the 1000 races from inaugural 1950 British GP to 2019 Chinese GP with a brief summary of the events and all the usual factual datas: pole position, fastest lap, race result. Alone this would make it a worthy book, because it is a complete summary of the 1000 races in a detailed version (Jacques Deschenaux's otherwise great annual Grand Prix Guide gives you only the pure facts). The First 1000 continues also some photos, though, not rarely seen ones, but there are a few aspects it offers. Smith created a hierarchy of the race like Gold, Silver, Bronze, Black/Tragedy and White/Travesty which makes his volume immediately unique in the terms of opinion and individuality. It is very exciting to see how he judged certain races. Surely, there is no question about if the 1976 Japanese Grand Prix was a Gold-rated race with the apex of the rivalry between Niki Lauda and James Hunt (race 280), but whether the 2003 Hungarian GP (race 710) was only a Silver (as in the book) or could have been Gold with Alonso's first win and many casualties during the race, is a ground to debate. And this makes the Veloce published book absolutely gripping: one can revive his own experience and memories.
It is a bonus, that Roger Smith collected many interesting - what he calls - "folklore". At the end of each season's story there is a section of additional info and short inside remarks.
The statistics are also great. I loved to find out that - for example - in 1974 Niki Lauda led 338 laps during the season but finished only 4th while Fittipaldi, Champion at the end of the year led a mere 77 laps but at the right time.
All in all, Roger Smith's The First 1000 is a real Bible for those who love search in the rich past of Formula 1 - one can find something surprising or useful by every turning up the pages.
If it is not enough for the hard core F1 fans, there is some more. A few months earlier, in April 2019 came out David Hayhoe's truly extravagant opus, Formula 1 The Knowledge, actually the 2nd edition. I also contains the records and trivia since 1950 - but what sort of!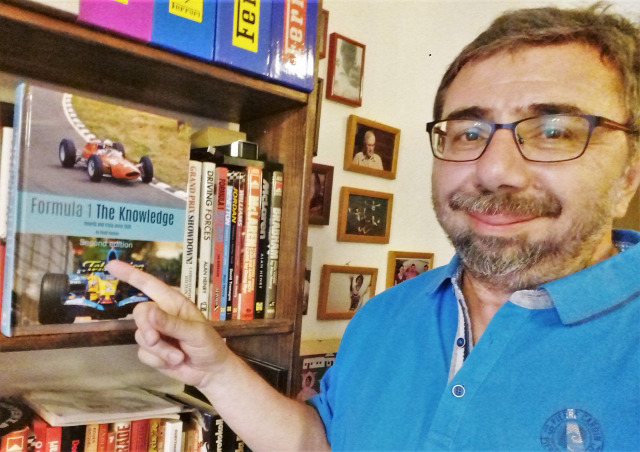 The new updated edition has over 200 new sections and runs to 544 pages compared to 435 previously, with many new ideas of analysing the history of F1. The appendix on regulations over the years has much more detail. There are new sections on F1 drivers who have contested the Olympics, stories of drivers who pushed their car at the end of a grand prix, paragraphs on those who were descended from royalty and aristocracy.
There's a section on wildlife, and how races were affected. Something else you might not have encountered in F1 books is 'Drivers in Trouble with the Law'. There are some amusing stories here, the guy who clung to a F1 driver's windscreen wipers, one who jumped into a ditch to escape, a few Lewis Hamilton incidents, the drivers' meeting that was stormed by police blowing whistles… There's tax evasion, fraud, problems with Mr Mugabe and some serious cases, involving prison and serious accusations which are separated from the rest. This law section runs to several pages.
The appendix on the development of regulations through the years has been expanded. There's a completely new set of images with a front cover in tribute to John Surtees who we lost in 2018 and Fernando Alonso who ended his F1 driving career in 2018.
Formula 1 is like life itself - it has everything you can imagine, and also what you cannot. If you go through the volumes of Roger Smith and David Hayhoe you very probably have all the glimpse F1 has ever produced.
Very well done, Gentlemen!
The books is only available direct from Veloce: www.veloce.co.uk